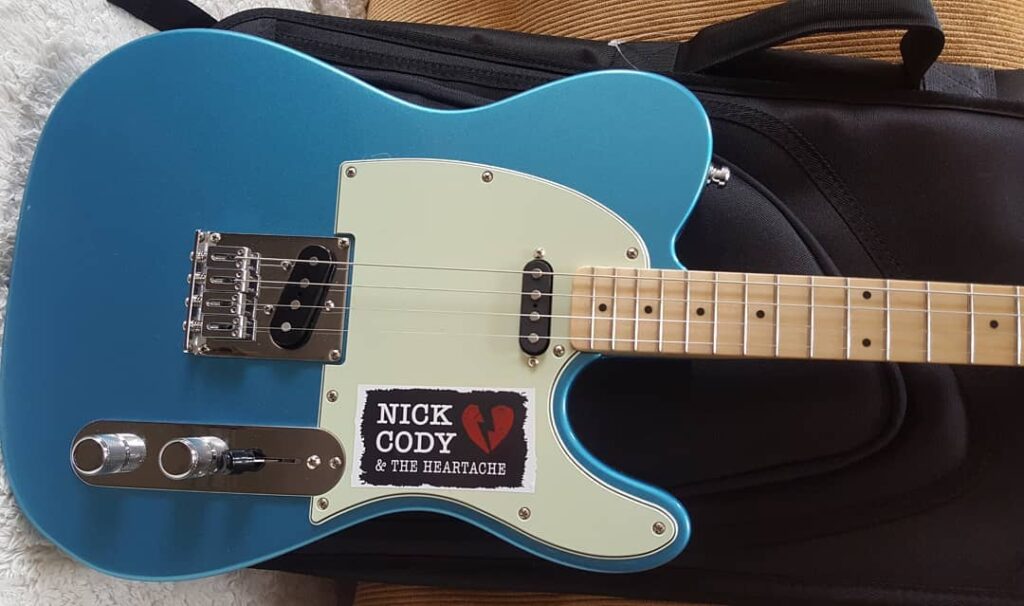 A rare but welcome addition to my instrument family
I had never heard about the Alternate Reality Fender Tenor Telecaster until my bass player Fergus Quill brought his tenor to one of the rehearsals. I thought "Yes it looks cute, but I can't imagine that its going to sound that great" and how wrong I was. To my great surprise, the pickups sounded great and it played really well. I immediately started looking for one online and found the above placid blue version left in the UK. Aside from somebody asking a truly bonkers price for all three colours on Reverb, these simply don't exist. Fender did one run and I suspect some players bought them out of curiosity and at a retail price of 429 its not a big financial risk. These are made in Mexico and once I changed the strings for a better gauge and got my tech guy to set it up properly, its a really great guitar.
Tenor tunings
I have a great acoustic Collings tenor, so I have some familiarity with playing tenors, but the Fender is a very different beast. My years of hanging out with Martin Simpson have alerted me to the terrific possibilities of using non standard tunings and of course the tenor's standard tuning is essentially two thirds of a standard guitar tuning without the low E and A. With this Fender tenor guitar I am finding that open C is working really well and two songs have already emerged in the first two weeks of playing it.
Amp considerations
I also learned from Martin Simpson to experiment with different amps and currently I am a big Supro fan and have been playing through the Supro Comet and the bigger Royal Reverb which has two ten inch speakers. Most of my other amps have twelve inch speakers, so this has been a new exploration for me and I'm pleased to report that the Alternate Reality Fender Tenor Tele sounds superb through the Supro amps and I already have one track recorded, ready for BVs and mixing.
Nick Cody & The Heartache live sound
I'm looking at using the tenor live with the all electric Heartache ensemble and we are rehearsing every two weeks up until our first gig on Oct 2nd supporting Captain of the lost waves. I like the idea of a short 30 minute set to test out the new material and new gear. So when you see me pulling out what looks like a tiny telecaster, you'll know its one of these rare Alternate Reality Fender Tenor Telecasters!
Alternate Reality Fender Tenor Telecaster explorations