Tales of Dark and Light review in Rock & Reel magazine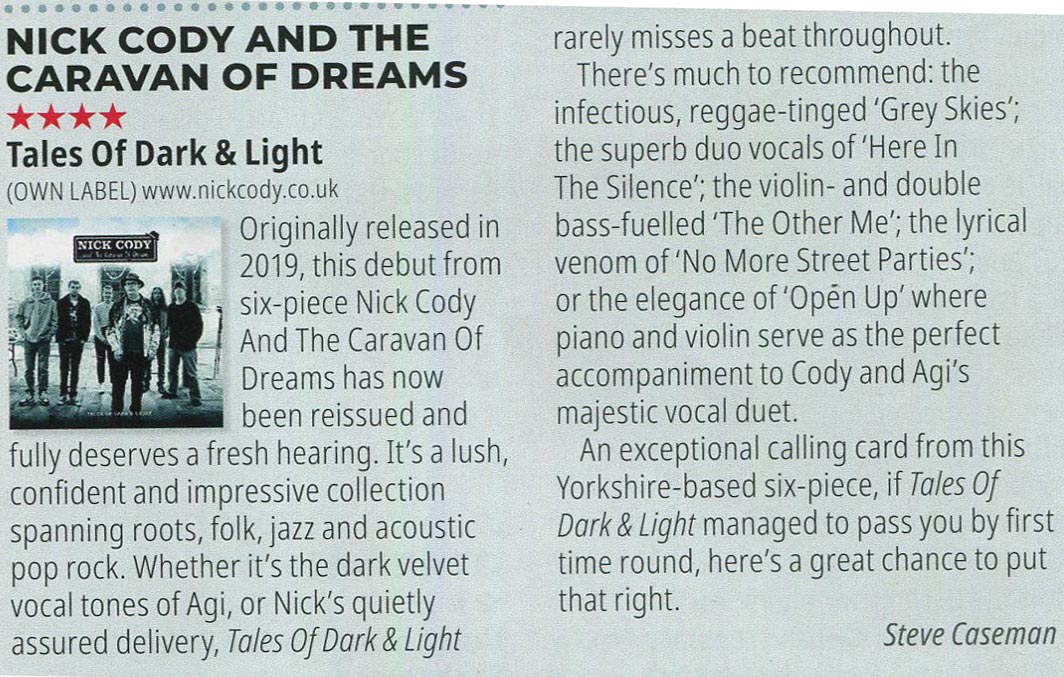 The Caravan of Dreams is my second ensemble after The Small Change Diaries. Both bands remain in play, but most of my attention is now on The Caravan of Dreams. The the debut album "Tales of Dark and Light" is now available, see HERE
The live Nick Cody & The Caravan of Dreams ensemble
The core live Caravan of Dreams are Nick Cody vocals and instruments, Agi on vocals, Rich Ferdi percussion, Fergus Quill Double bass. Other Caravan members include Laurent Zeller on violin, Jed Bevington on violin and Chris Smith keyboards.
On the debut album "Tales of Dark and Light" I am joined by many superb musicians including Laurent Zeller, Phil Doleman, Dave Bowie, John Burr, Alice Higgins, Paul Conway and Adrian Knowles.
Three preview tracks are available here
The Caravan of Dreams is different in many ways to The Small Change Diaries and I'm spending a lot more time on developing this material. I'm also meeting Agi twice a week to work up the songs by stripping them back to just vocals and piano. I'm surprised at how effective this is as a way of working, as well as a great deal of fun. At least two of the tracks will just be piano and vocals, which is a first for me.
The Caravan of Dreams members
This is a very unique collection of musicians and the combination makes for all manner of fascinating sonic possibilities. There are many talented individuals who form part of "the caravan" Many members have their own musical projects so at any time the makeup of the caravan ensemble may change, but our focus is always on delivering great original music.
Fergus Quill
Fergus reminds me of a double bass version of Jaco Pastorius, a wonderfully skilled player with great strong opinions that have added a new sonic edge to The Caravan of Dreams material. He is a seriously talented working musician who has great musical awareness and genuine love on playing live. Fergus introduced me to Jed Bevington who he has known and played with for many years and the two of them worked brilliantly together. The first time I brought the track "With one finger" to a Caravan of Dreams rehearsal, they immediately came up with an introduction that made me think "We've got to record this track asap!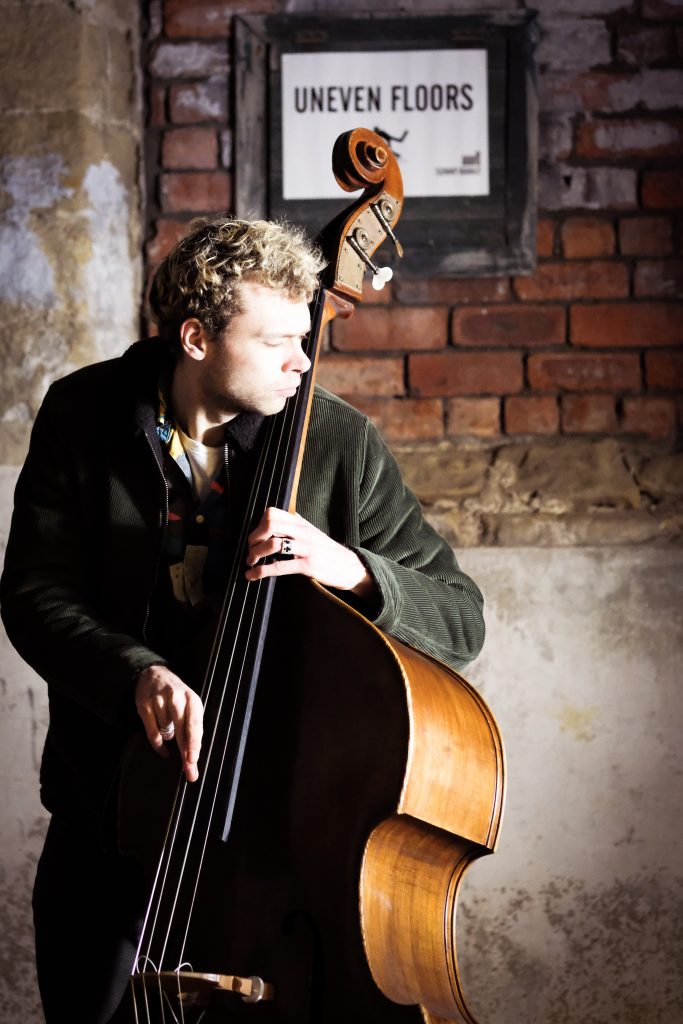 Rich Ferdi
Rich Ferdi is the beating heart of The Caravan of Dreams and of course, I have known Rich for many years in playing with my other band The Small Change Diaries. This is a much more ambitious project than anything I have done to date and as well as recording in the studio, The Caravan of Dreams will be doing some low key gigs locally in Leeds before the album launch. These gigs are a great opportunity to try out the new material and refine how we play these tracks in live gigs. We are organising gigs throughout 2019 with the album launch planned in May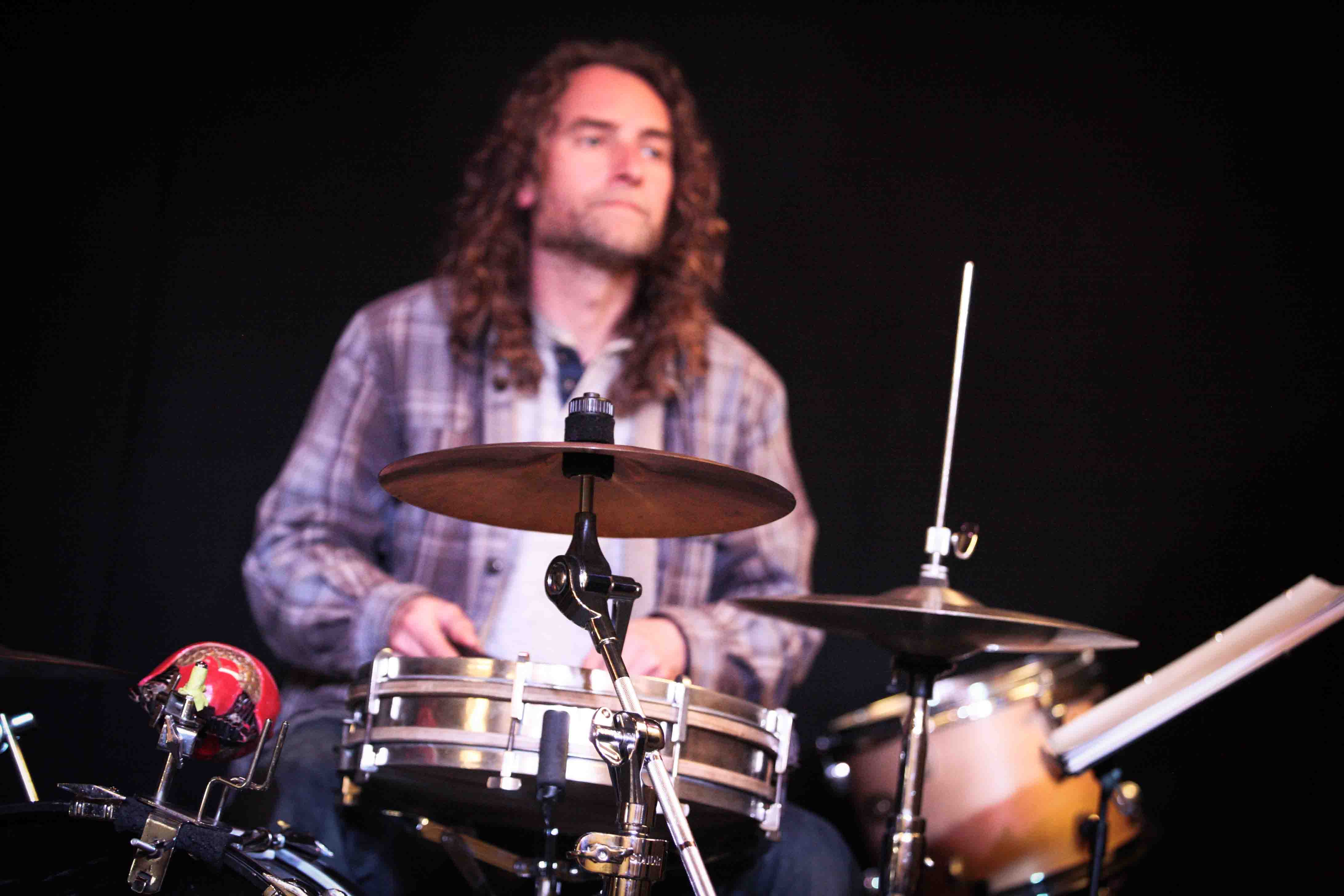 I'm having to learn an entirely new set and its both highly challenging as well as a great deal of fun. It's unusual for me to not be playing on some of these tracks and focussing more on vocal duties. I'm really happy with the material and these new musicians are seriously stretching me in the best possible way. They also bring a terrific energy and enthusiasm to the project.
Laurent Zeller
I first met Laurent Zeller when my previous band The Small Change Diaries played Lagoa Guitar Festival a few years ago. He has been essential to The Caravan of Dreams sound and is a terrific player who brings great enery and experience to the ensemble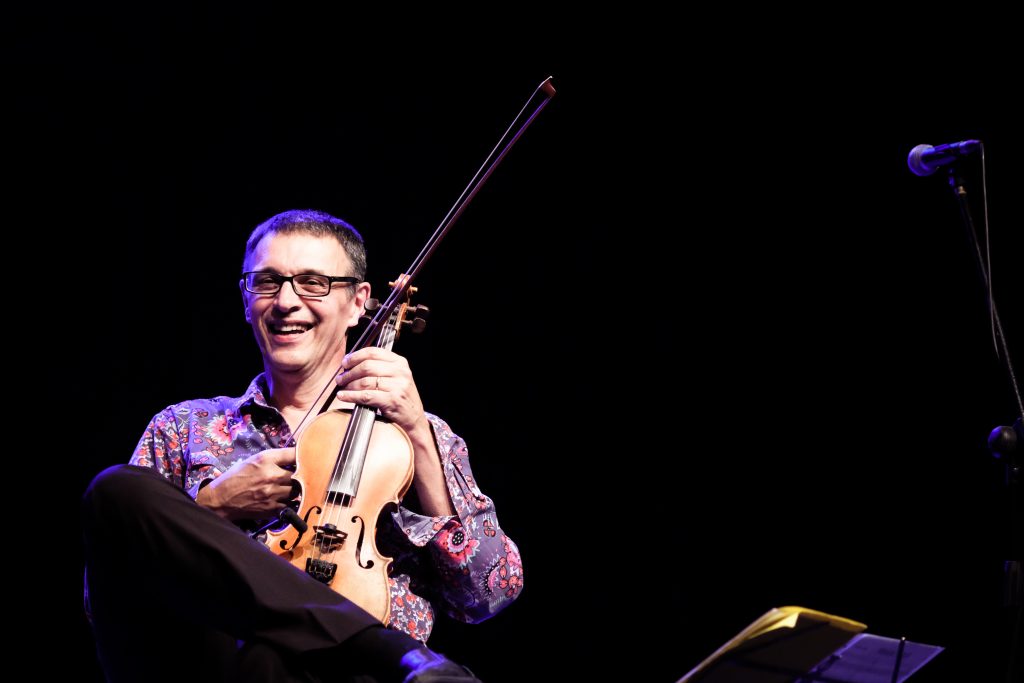 Agi
Agi was a key member in recording the debut album "Tales of Dark and Light" and has suppied vocals and backing vocals to many of my recordings in recent times, both with The Caravan of Dreams" and other music ensembles. She is an outstanding singer and great vocal teacher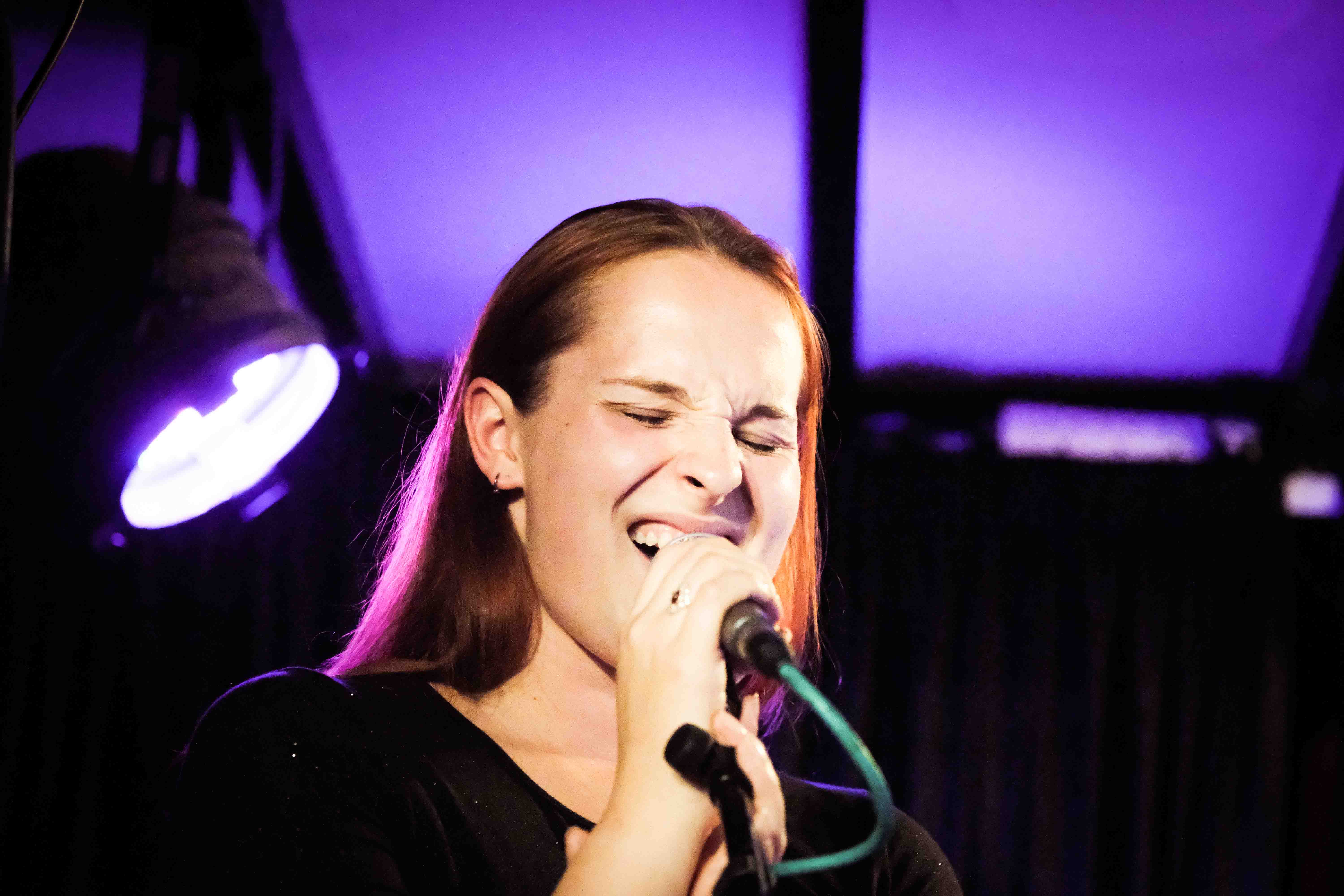 Carl Rosamond is doing a brilliant job on production and has essentially become "The George Martin" for the band as his musical direction is key to the overall sound. Special thanks to everyone who has been involved in The Caravan of Dreams. Its a fascinating combination of talent from across the globe and I'm loving playing these new tracks
Check out all our music on Bandcamp