Towse has become a bit influence on my releases in recent years, an extraordinary artist who is quite brilliant as a songwriter and performer, Here's how we came to work together detailed in the "All is fine 'til the world goes pop" promo video.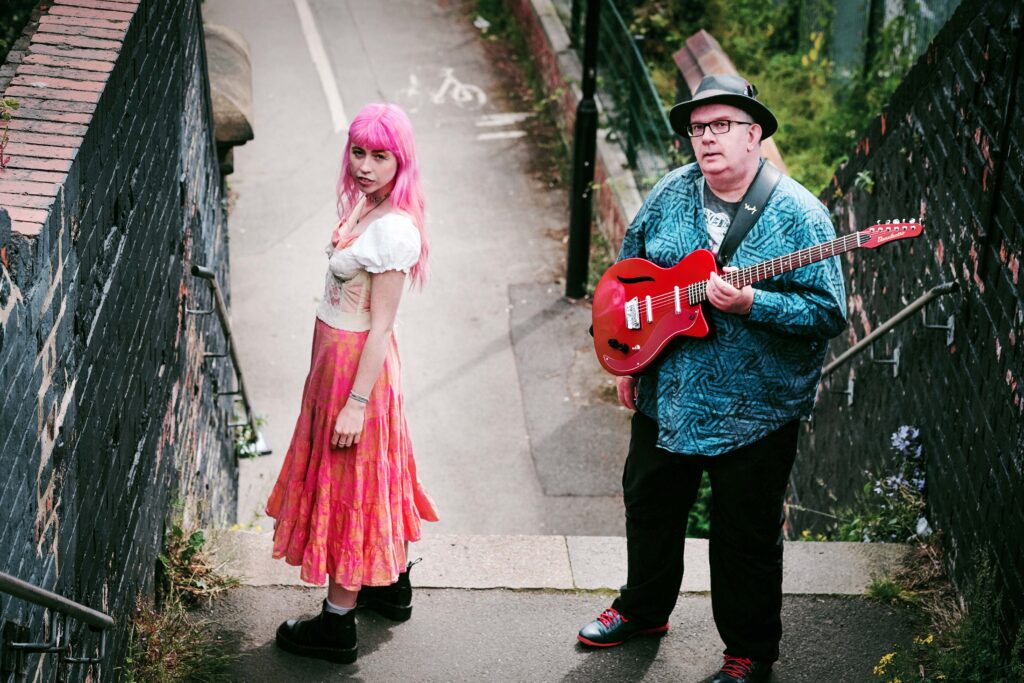 All is fine 'til the world goes pop promo
This promo gives an insight into how Nick Cody and Towse came to collaborate on the "All is fine 'til the world goes pop" album. Nick first noticed Towse when she posted her "When I drive" video on one of his music platforms and was so impressed he made contact to invite her to guest on some tracks. Initially an EP was planned, but the Towse contributions were so impressive that he decided on expanding this to a full album and potentially a second album.
The pair only met in person in June 2022 after almost two years of exchanging files online that resulted in a series of tracks including the two singles already released "She's tough enough" and "Thinking in circles". This album brings together 13 musicians from all over the globe including Michael Ross from Nashville on guitar, Manitoba Hal from Canada and Laurent Zeller from France.
Check out all our music on Bandcamp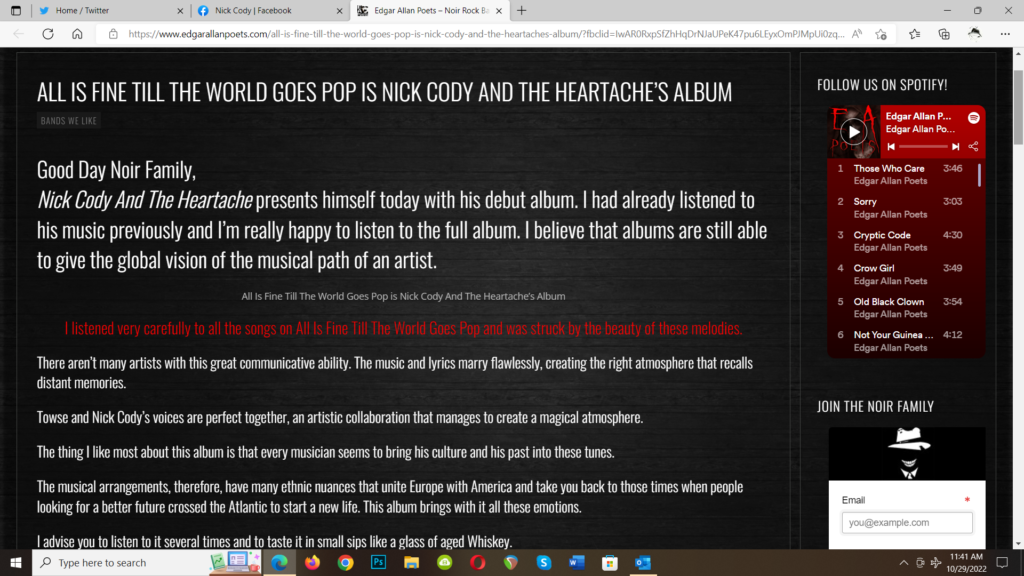 Maybe – Released Sept 9th 2022
She's Tough Enough – Released March 11th 2022
This is the 2nd single from the forthcoming album "All is fine 'til the world goes pop"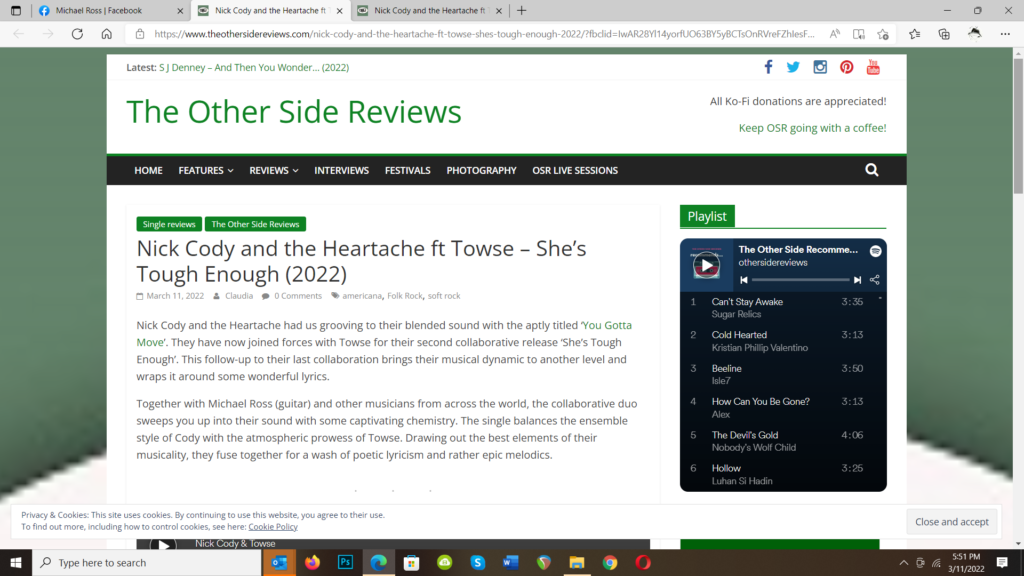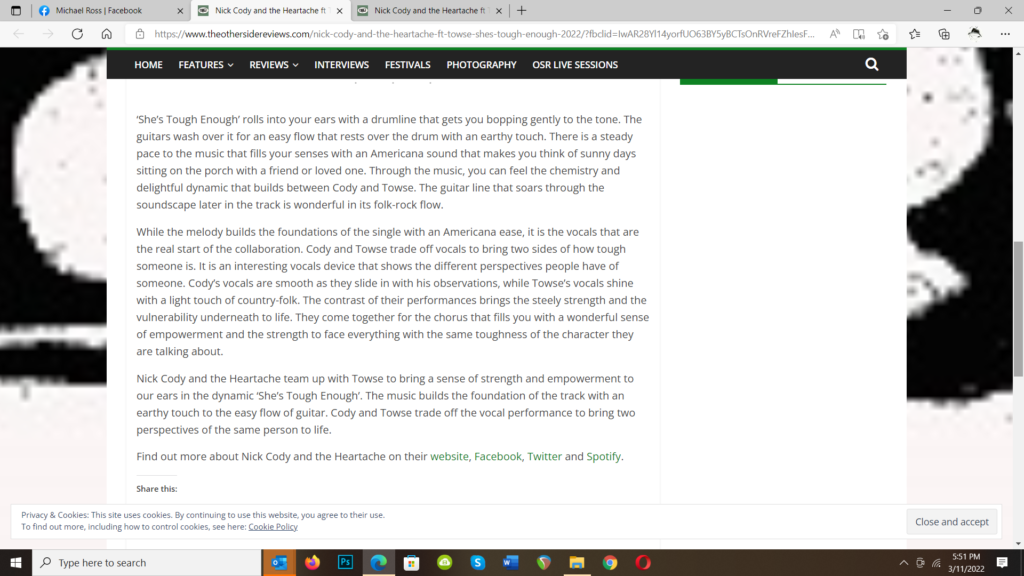 "Nick Cody is very obviously a seasoned musician, with a great back catalogue of music. His vocals are a mix of country/americana blended with a Bob-Dylan-who-practiced-more kind of sound!! His work with Towse is of particular interest and takes his songs to a whole new level. Great stuff!"
Send me your ears
What people are saying
"Musically, the track is a mesmerizing outlook into a fresh start. Channeling their inner Robert Plant and Alison Krauss, the haunting melody is truly captivating"
RGM Music
"It's impossible to stop listening to this duo that worked very well and with perfect chemistry"
Roadie Music
"Thinking In Circles" offers an exquisite look at the sheer poetic prowess of Nick Cody & Towse in delivering an atmosphere that wraps around the listener inviting them into this dreamy yet deeply felt universe."
Fruitsonic
Who is Towse?
Towse is a musical project fronted by Singer-songwriter Grace Fellows. Grace grew up in Southern California where she was homeschooled and spent her childhood immersed in the arts. She went to Ventura college and then CalArts to study music. She is now living in London studying an MA for Pop Music at BIMM. Her musical signature is emotional presence, creative dynamic and timbral choices, and connection. Her songs are personal and deliberate, but with a sense of humor. She is often compared to artists like Joanna Newsom, Regina Spektor, and Fiona Apple. Towse's YouTube channel is very active, so it's great place to find more of their work.