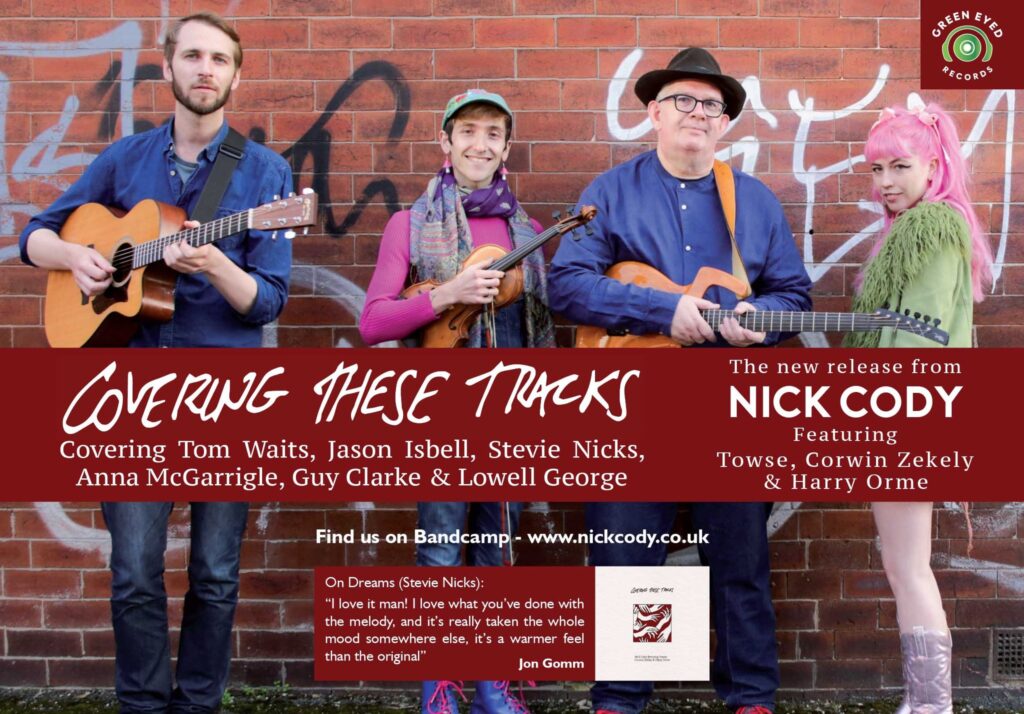 Covering these tracks
"After releasing five albums of original material, the forthcoming mini album "Covering these tracks." This album showcases recording new versions of many of the songs that have inspired me over the years. This is a totally new challenge, recording songs written by other artists. Its also been an absolute joy to be stretched in a new way and to get an insight into how other artists write and perform.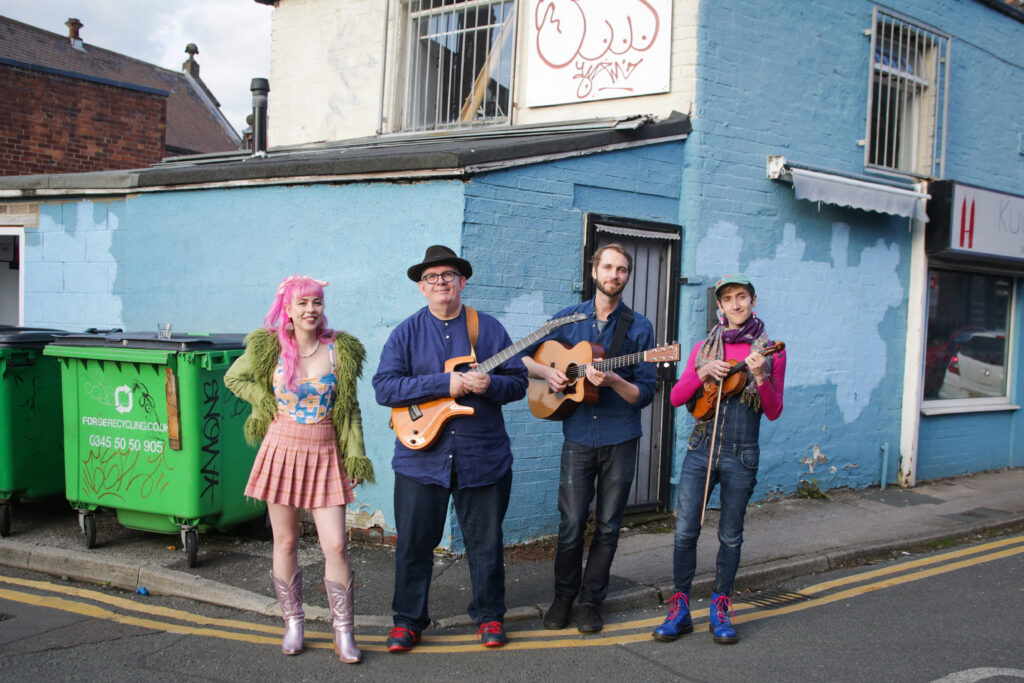 This album includes well known tracks like the classic Fleetwood Mac song "Dreams" as well as other lesser-known songs. I'm pleased with the stripped down version we created,with just a Larry Pogreba reso guitar and violin and two vocals. A & R Factory review below
Review from Rock & Reel magazine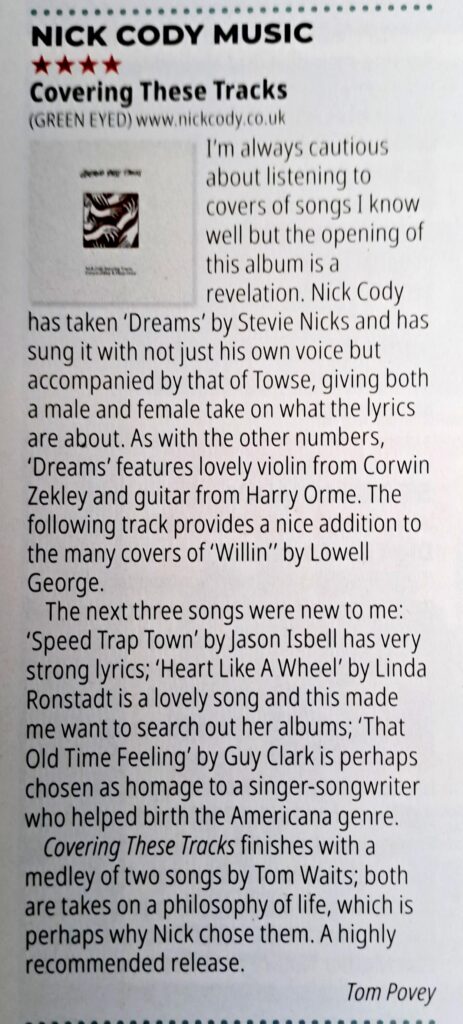 ALBUM NOW AVAILABLE ON BANDCAMP HERE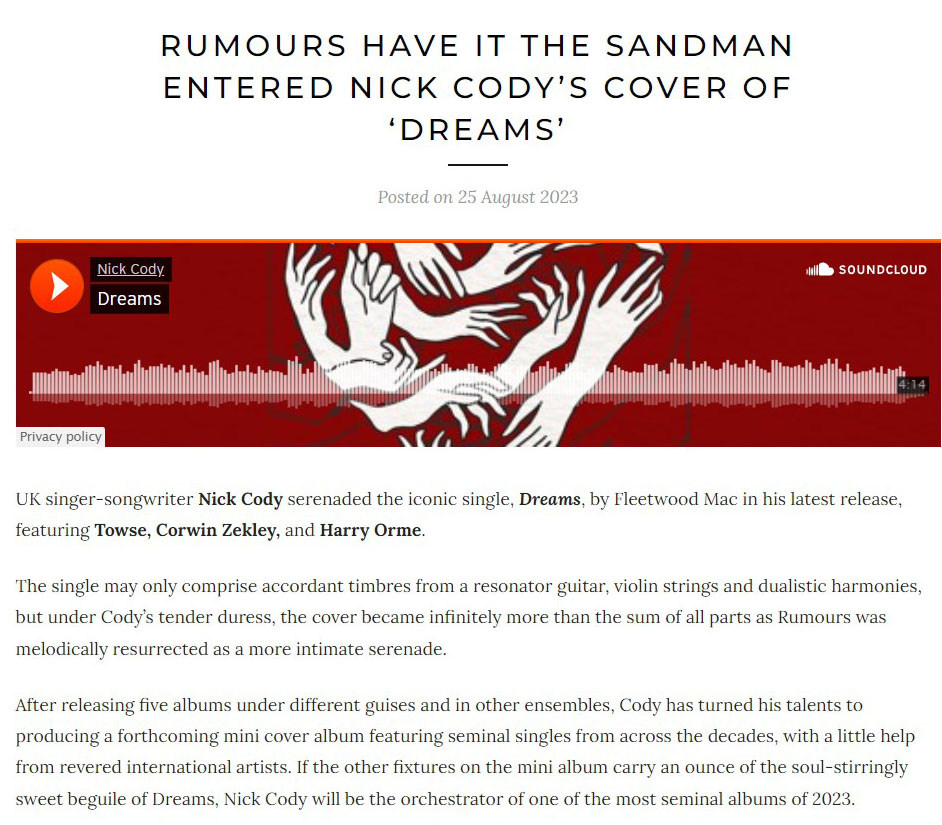 I decided to create new acoustic versions with a maximum of two acoustic instruments and vocals. The material is really stripped back and we'd do our own take on these songs. The inspiration for this approach came from Rick Rubin's work with Johnny Cash on the superb American Recordings project. Rubin was bold in keeping the DNA of the original tracks, but creating something new with a lot of space, often not present in the originals. I am of course lucky to be working with three other exceptional musicians, each of which bring something truly unique to the project.
I call this venture "a project" as further mini albums will follow in 2024 and we are already recording material fro these additional releases.
Special thanks to the following people – Towse, Corwin Zekley from California and Harry Orme from the UK, Silka Guy for great graphics, also Karen Turner for photos. Also Mal Williamson for videos, Carl Rosamond for sound production, Jim Glennie, Martin Simpson, Jon Gomm for artistic inspiration and my wife Sue for support and encouragement."
Nick Cody talking about the project on Phoenix FM radio below
"Dreams" – what people are saying
"I love it man! I love what you've done with the melody, and it's really taken the whole mood somewhere else, it's a warmer feel than the original"

Jon Gomm
A certain air of lysergy permeates the setting of this synergetic experience, "abducting" us to levels that elevate our senses to stratospheric levels!
Music for All
"Dreams" provides a tantalizing glimpse into the enchanting journey that Nick Cody and the Heartache are embarking upon as the release date approaches. Through their captivating reinterpretation of this Fleetwood Mac gem, they offer a taste of the musical treasures awaiting listeners in the mini album "Covering These Tracks."
JYLA Blog
The brilliant NICK CODY AND THE HEARTACHE have released the superb cover single of the much loved song 'Dreams'. It is an Americana release complete with stunning musicianship, emotive vocal performances and an intelligent arrangement. We can not wait to hear more!
FV Muisc Blog
"Dreams" offers a tantalizing glimpse into the enchanting voyage that Nick Cody and the Heartache are embarking on as they approach the release date. Through their captivating reimagining of this Fleetwood Mac gem, they provide a taste of the musical riches awaiting in the mini album, "Covering These Tracks."
Ariyel's blog
Rock and Reel review below