In just under two weeks time I'm running and playing at the Music for the Head and Heart showcase in Leeds, with my band "The Heartache" along with Towse and Harry Orme.
This evening will showcase the Covering these tracks album released at the event. The material is all acoustic, so I have to make some decisions on which gear to use in the live situation. I've learned over the years to think really carefully about what works best in a live situation. When I played Lagoa Guitar Festival main stage, I use a Red Eye pre amp straight into the PA with my two ukuleles and with a great sound engineer, I had great sound. This is the most stripped down set up of all set ups, that still delivers sonically.
Keep it simple
I've learned to keep live gear choices simple, or there can be all manner of problems. I few years ago I ran support for an artist who insisted on a large number of acoutsic instruments all very different and with respect not of the best quality. The sound engineer was tearing his hair out at the soundcheck that wend on for almost two hours and even after this there were major sound issues including an ongoing loud hum that made for a really poor listening experience. My ensemble were left with just ten minutes to do a sound check, but we had perfect sound as we had much more reliable gear and kept everything simple.
I had just two guitars and used a Supro Comet amp with just one pedal used on one song. Good quality reliable leads are also essential in these situations. Too many variable factors is a recipie for disaster. If I am using a few pedals a "Quartermaster" isolation unit is essential. This keeps each pedal isolated from the other pedals, so its total peace of mind for any sonic issues.
For acoustic sounds, there's only one choice – Henriksen bud amps

For any acoustic gigs, including the upcoming Leeds showcase, the Henriksen amps are the only choice. I came across these years ago and have never looked back. Previously I'd used Schertler amps that sounded good, but nothing like the Henriksens. Not only are the Henriksens a fraction of the size, they are also a fraction of the weight. I have a couple of two channel bud amps and a one channel blu unit as well as a bunch of extension cabs. There's nothing that comes close sonically and they offer a huge range of sonic options and crucially are 100% reliable.
The Parker Bronze
For the Music for Head and Heart showcase, I'm gonna use my Parker Bronze guitar. This is a rare and ususual guitar, favoured by Joni Mitchell, but vert rare these days as they are no longer made. They are super light and the Parker Bronze has a great bespoke Fishman pickup that creates a terrific acoustic sound that is tough to get in a live situation.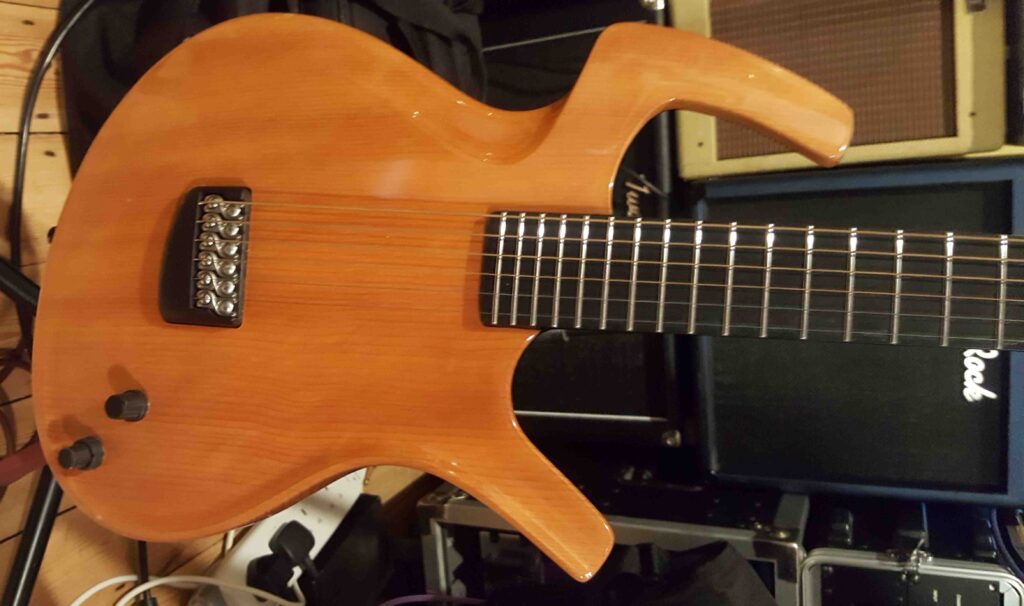 Unusually for me, this will be my only instrument on the night, following my own advice to keep it simple!