My producer and I spent 2 hours yesterday on creating a spread sheet to track progress of the work on 25 different songs currently in play in addition to 19 songs that have already been mixed. We currently have 13 different musicians involved in this work which will result in three very different sounding albums. This project requires a great deal of organisation and coordination as there are many moving parts. We are delighted to have a number of great vocalists and musicians involved in creating some really unique material. Some songs are going to appear in very different styles. "All is fine, until the world goes pop" has already been recorded and mastered in three very different styles.
Radio Plays
During covid 19 I see little point in releasing entire albums, but we will put out a few tracks for radio play and on my sites. Special thanks to Andy Coote at Source FM for the latest in a series of radio plays here
The recording process
All work starts in my home studio in the UK. Unusually for me, I'm doing everything on electric guitar with my Henriksen amps, Motown Acme DI box, Zen Drive 2 and other pedals, with all vocals through the superb Ear Trumpet Myrtle mic. All tracks are recorded via a UAD Arrow into the Reaper DAW. Its a very stripped down setup that works brilliantly. Once I have worked up basic ideas, they can go out to other musicians and producers working with the material. Its a fascinating process to bring together so much excellent talent and I'm grateful to all those who are involved.
Release dates and video
Full albums are planned for mid 2021, depending on the covid 19 situation. In the meantime Nick Bloomfield is doing a great job creating video for existing and future releases.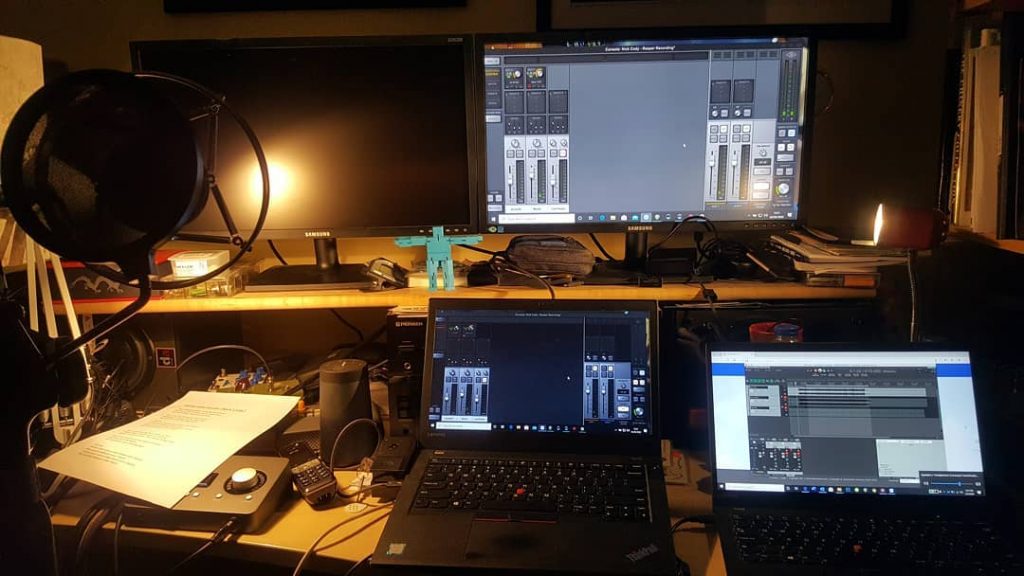 Collaborations with 13 musicians on current 25 tracks