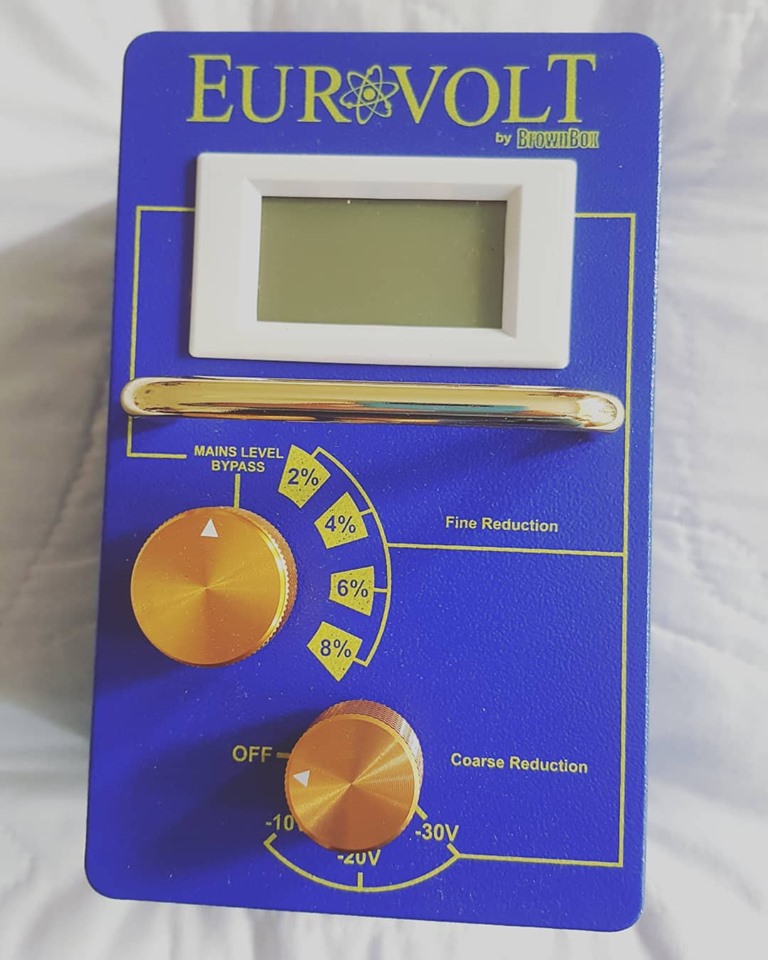 I have always known that mains voltage affects the quality of sound as for years I have used Russ Andrews power conditioners in my home entertainment systems. I have also been a big fan of Furman power conditioners when playing live with the Henriksen Bud amps.
Introducing The Brown Box Eurovolt Unit
I heard about Brown Box from my good friend Michael Ross in Nashville who runs the superb Guitar Moderne platform. Over the years Michael has given me the heads up on many brilliant artists and gear and this is one of the best recommendations. I knew that the Brown Box was used by many artists including Derek Trucks, but I only just found out that Brown Box made a UK/European version. "The Eurovolt" and so I grabbed one.
This week we tested the Eurovolt with my Two Rock Jet combo. I had seen the YouTube video from Eurovolt which was really useful showing how to use the unit.
I expected to notice a difference in sound, BUT wow it was like night and day with adjusting the voltage using the Eurovolt Brown Box. The adjustments to bring the voltage up made the amp sound so much sweeter and dynamic, we were really quite shocked.
In days gone by, I never really understood why sometimes I'd plug in and the amp sounded a bit flat. I've even though of moving on amps thinking after such situations not realising how important it is to get the right voltage.
Safety issues and tube wear
As well as sound considerations, when playing live the Eurovolt often the voltage at venues (and I'm being polite) can be "variable" at best. Using the eurovolt means piece of mind as well as looking after the amp tubes. The Two Rock uses military spec 6V6 tubes that sound amazing anyway, but at their very best with this unit. Great tubes are hard to come by and can be expensive to replace, especially through voltage spikes.
Often these kind of niche devices are quite hard to come by and often disappear, so become highly sought after by artists. I suspect this will be a terrific investment and of course there's nothing so great to play through as a great sounding amp. I'll be using this on my next 2020 recording project.