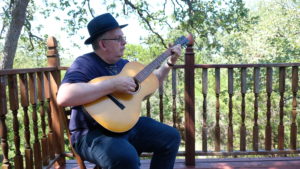 I just returned from an amazing USA set of travels from Austin, Nashville and New York. These are three very different, but equally amazing cities. It also gave me and my wife a great chance to meet up with great friends and to see a whole world of great music. This was the first time I've seen Nashville and I can understand why Nashville is so renowned for music. The sheer concentration of musicians and the quality of the performance is quite amazing.
In Austin I picked up an amazing Waterloo guitar made by Collings Guitars. I had no intention of buying an acoustic, but this is one of the very best I have ever seen. Its already sparked some interesting comments. On the flight from Austin to Nashville one stewardess commented
"This guys got a HUGE guitar"
On the trip from NYC to UK for some reason I can't fathom, I was called from the back of the line to board first on the plane. Maybe I was mistaken for a famous country star, I don't know. Either way, this Waterloo seems to provoke all manner of curious interactions.
In NYC we saw Barry Harris at The Vanguard for a quite extraordinary gig. We also met up with an old friend and author of "Portrait of a Phantom" Zeke Schein. Zeke sold me my first uke and has become a great friend. He introduced me to the first ever 3D printed ukulele, which you see in this photo. His book is quite brilliant and highly recommended. This world is better for such amazing folks.