During my latest trip to Tokyo I was talking to a store owner about my ongoing quest to find the best sounding ukuleles on planet Earth. To date I have amassed 14 different instruments mostly collected from Japan and the USA. I'm constantly amazed at how these small instruments can sound so sonically different. Aside from Bill Collins superb instruments, all the other ukuleles I own are all hand made by builders. The stand out ones are without question those made by Takahiro Shimo from Japan. I won three of his instruments and have commissioned a fourth one to collect in 2016 during my tenth visit to Japan. Shimo uses the very best woods and the finest hardware, but aside from this there's something quite magical about the final result. I interviewed him during this last trip for an article that will appear in Uke UK magazine.
During my last visit I also picked up a great concert ukulele hand build by Kiyoshi Nishigai also from Tokyo. This has Brazilian Rosewood back and sides with a spruce top and just sings when you play it. I also picked up a Maui, Hawaii soprano ukulele made in 2008 by renowned solo luthier Peter Lieberman during his "bling era!" This is very different sounding to anything else I have played to date and is almost in banjo sonic territory. I was delighted with both these instruments as they add a new dimension to what I already own and I can see them being used in future recording with The Small Change Diaries. Earlier this year I also found an unusual a really rare ukulele by James

Triggs which was built as a prototype for Gibson, so this literally is a one off build. All of these instruments play and sound terrific.
Ukulele Instruments v Ukulele Shaped Objects
Of course the ukuleles I have been talking about are mostly high end instruments and that is reflected in the price. That having said, it's quite possible to find good instruments without breaking the bank. Production models can vary massively so it's in my view even more important to play them in person. The internet is of course rife with daft questions like "What's the best ukulele to buy?" and "What are the best strings" These questions ignore key questions about what kind of sound the player wants among other considerations. One of the reasons for finding really great stores with a wide selection is that you can try out many instruments in the same acoustic space so you can get a direct comparism in how instruments sound. Also get someone else to play each instrument, so you can hear what it sounds like from an audience listening perspective, which will be very different…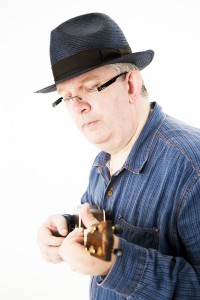 One great online resource for ukulele information with great reviews is http://www.gotaukulele.com created by Barry Maz. The site is full of sensible practical advice with a stack of reviews of a wide range of instruments. That said, I always suggest people try out instruments for themselves. Despite what any reviewer might think, you will only know how an instrument sounds and feels by having one in your own hands, despite what you may read online on a daily basis!
My experience is that many members of the pubic don't appreciate how great ukuleles can sound. A ukulele shaped object is not a musical instrument and below a certain price you are not IMO actually buying an instrument in any true sense. It may look like a ukulele, but it's essentially a ukulele shaped object that is never going to sound that great! Like any instrument choice the best sounding ones will have been made with great care and skill.
One thing I have found for sure is that the better and instrument sounds and plays, the more you'll want to play it. The more you play, the more likely you are to improve as a player and really enjoy the experience. I find them quite seductive and have now joined the UAS (Ukulele Acquisition Syndrome) FB page which is doing little to curb my buying habits!

Ukuleles v Ukulele Shaped Objects