I just got back from Eiger studios in Leeds where we spent the day shooting video and rehearsing for the Sept 23rd Green Eyed Records/Music for the Head and Heart showcase.
I chose Eiger as it had by a mile the best facilities for this work and also was really central in Leeds. Mal Williamson came over from Hull to do the video work and Towse came up from London before their two month USA tour starting next week.
Planning makes for a productive day
I've long learned that the best video shoots require proper planning. The right equiptment, right space and right people all contribute to making such an event a success. I've seen some disasterous video shoots where there was lack of attention to using the best gear and properly organising time. A big mistake is to focus only on the visual aspect and not pay attention to sound capture and I've seen many examples of album launches where hours of video are rendered non productive because there wasn't proper audio capture! Fortunately Mal Williamson is a seasoned film maker and has superb attention to detail and attention to detail is essential to make a success of any video shoot. I picked Mal up at 10.24 from Leeds station and we has a good 90 minutes before the other artists landed at Eiger studios.
The space at Eiger studios
I booked the main studio space at Eiger as this was by a mile the best location for any filming. There were three separate rooms, the main space for playing, the studio and a separate booth that we used for green screen work. This gave us a variety of excellent options and crucially there was no sound leakage from other rehearsal rooms. Unlike some other spaces in Leeds, Eiger is manned by actual human beings who were really helpful with all our needs. Food and drink were supplied by my wife Sue who has become the designated catering manager for such events! She provided a great spread for all involved. Such details are often missed and when people have proper nutrition, concentration is always improved!
Working with Towse and Harry Orme
Its an absolute pleasure to work with Harry Orme and Towse on a new project which will be revealed at the showcase on September 23rd in Leeds at Heart. These are exceptional professional artists with great creative skills and are easy to work with. I've learned to only work with professionals in such projects and we've already recorded a number of really superb tracks which are very different to anything I have done to date. Of course Towse was featured on the "All is fine 'til the world goes pop" album described by Jim Glennie founder member of James as
"NIck Cody continues to write great songs that span genres and sound fresh, vital and relevant.'
'Nick and Towse's new album is a must have for your next long car journey.
Taking you from the Yorkshire Dales to the US prairies and back again."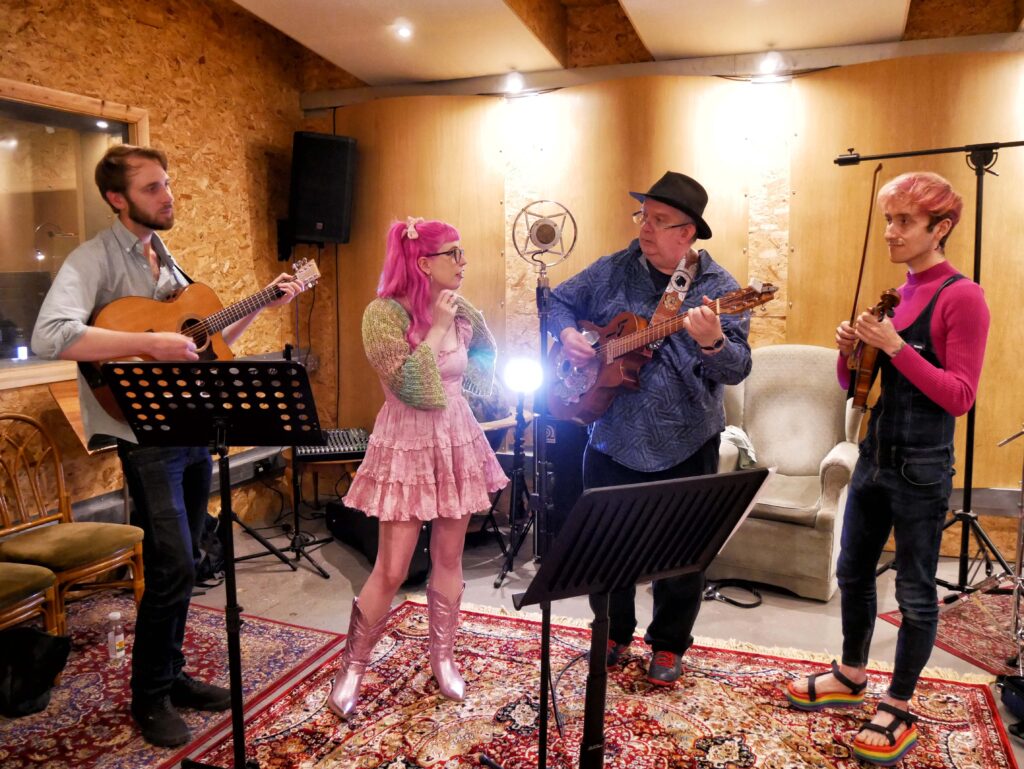 Harry Orme has been a game changer in terms of working up new material, a superb guitarist with a great musical brain. It was great to see him playing with Corwin Zekley from Towse and I am in awe of their musical skills! This is a great example of creativity through collaboration, the central theme for the Green Eyed Records platform. I recorded two great inteviews with both artists which will be released in the near future.