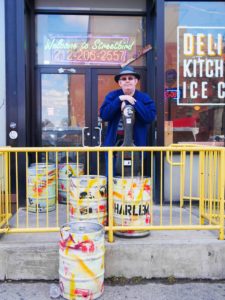 Last night I had the opportunity to play Shrine in Harlem with my good friends Doug O Brien on keyboards, Alan Thornton on uke and vocals and Terri Thornton on bass. As "Throckmorton" they wonderfully opened the evening. This was the first time I played material off my solo album "Tales of Dark and Light" and we opened with Dunning Kruger Blues" Later in the set we also did "Grey Skies" which I have yet to record. Both of these tracks are really groove based, think 'Papa was a rolling stone" coupled with the Doors "Break on Though" The guys did a great job making these tracks really swing and I am looking forward to recording Grey Skies with a cast of many great musicians back in the UK this April.
This was also an opportunity to try out the new Henriksen Blu and it did not disappoint. I ran my ukulele through the fire eye red pre amp straight into the Blu and it sounded great. I have yet to find any amp that works as well as Henriken gear. The Bud and the Blu work perfectly to amplify the natural sound of the instrument. There's nothing worse that an instrument that doesn't sound good and with the ukulele its tough to get a really great sound and I've been to festivals where the sound its really terrible. The Henriksens have massive EQ options (which you rarely need) and a line out from the amp to a PA is just heaven.
Saturday night we'll be playing the second gig at Silvana in Harlem. This is like The Cavern in Liverpool and should be a lot of fun. Its a real joy to play with other talented musicians and my wife Sue took some great photos of us in action..
First outing for new material, in Harlem USA