Since last October I have been heavily involved in writing material for The Small Change Diaries. There are now eighteen completed songs and two sets of lyrics that still require music. In recent months I have also been co writing with Jessica Bowie. This is proving to be a fascinating process, but one that is working exceptionally well.Sometimes I will get so far with a song and then need a new set of eyes and ears on what I have come up with. This was certainly true with "Miles Ahead" and "One Day I'll disappear" Jessica very quickly came up with some superb melodies for both these tracks and I anticipate that they will make it to the album.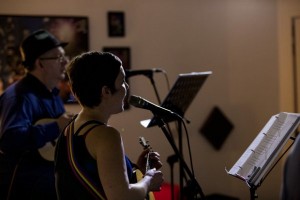 Often when you are creating your own material its often difficult to be objective after a while. Usually an idea for a set of lyrics will appear that then spark an entire train of thought. Personally I find many of my best ideas come immediately after waking up in the morning and I always have a moleskin diary close at hand to capture whatever comes to mind. One we have the basic song structure in place, the next stage is to look at final arrangements for the band.
The Small Change Diaries has in my view a really interesting combination of instruments with two ukuleles, guitar, percussion and double bass. This allows all manner of possibilities and sonic explorations crossing over into jazz, blues, ragtime, and roots music.
Songwriting and arranging material for The Small Change Diaries